<![if !supportEmptyParas]> <![endif]>
<![if !supportEmptyParas]> <![endif]>
<![if !supportEmptyParas]> <![endif]>
<![if !supportEmptyParas]> <![endif]>
<![if !supportEmptyParas]> <![endif]>
<![if !supportEmptyParas]> <![endif]>
Asciano is a small village emerging from the "Crete Senesi".
Along the antique and panoramic Lauretana (the road that joins Siena to Asciano) every few kilometres a stopping point can be found, where one can stop and contemplate the natural beauty that the area offers. The road slops gently down into a small valley of Asciano, La Collegiata (Cathedral) the Church of San Francesco and the Tower of Mencia.
At the entrance to the village stands Il Ponte del Garbo (The Garbo Bridge) completely destroyed in 1944 and has been faithfully reconstructed.
A few metres after the bridge on the right a small road leads to the old abbey of Monte Oliveto Maggiore. Continuing on the small Borgo (hamlet) of Camparboli comes into view and in the middle of this on the left beside an old church begins the road that leads us to the heart of the "Crete" and the Podere Montecaci. The name given to this podere speaks for itself: the land surrounding the building is typical of le "Crete", rich with "biancane", " calanchi", land suitable for pasture, here grows a type of grass suitable for sheep pasture grows spontaneously. This type of land permits a good production of milk and cheese.
Montecaci sits on the top of a small hill and represents the border between the two communities of Asciano and Rapolano Terme, all around only nature, clear, fresh air and wild life.
The silence of the countryside is frequently disturbed by the cries of goats or the calls of the pheasants. In the house the owners have created an atmosphere which remains faithful to that of a typical Tuscan farmhouse, adding only elements of comfort to make the guests stay more comfortable. All the apartments are found on the first floor, measuring 110 sqm and are composed of a living room with fireplace and a cooking corner (cooker, fridge, microwave), two double bedded rooms, two single rooms and two bathrooms with shower and another small kitchen with a fridge and 2 ring cooking hob.
The outside space is equipped with table, chairs, umbrella for eating outdoors.
The pool is in a panoramic position and measures 6m X 12 m, 1.40 m deep and is open from the 15th of May to the 30th of September.
map
<![if !supportEmptyParas]> <![endif]>
<![if !vml]>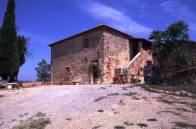 <![endif]>

<![if !vml]>
<![endif]>

<![if !vml]>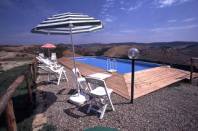 <![endif]>

<![if !supportEmptyParas]> <![endif]>

<![if !supportMisalignedRows]>
<![endif]>